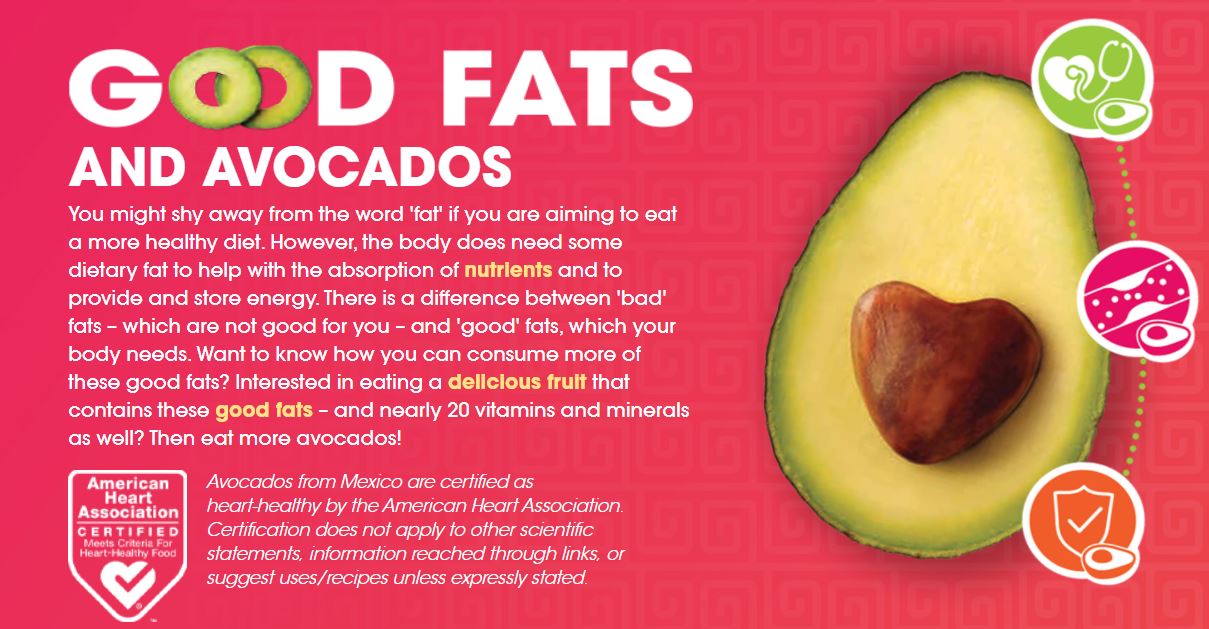 Avocados contain good fats and nearly 20 vitamins and minerals making them part of a balanced lifestyle.
When you eat a meal with avocado, the fruit acts as a nutrient booster to help your body absorb the fat-soluble nutrients found in the other foods.
Avocados are a good source of fiber, which slows down digestion helping to leave you satisfied.
Fresh avocados are a heart-healthy fruit. They provide naturally good fats, are low in saturated fat, and are cholesterol, sugar and sodium free.
Eating dietary fat helps the body absorb vitamins A, D, E and K. Avocados contain mainly naturally good fats with 5g of monounsaturated fats per serving (1/3 of a medium avocado).
Because it is a source of good fats, with its creamy texture, and mild flavor, avocados are a very flexible ingredient that can be used in many different types of dishes. Fresh avocado doesn't only taste great, it's also a nutritional powerhouse. Check out some of the Avocado recipes that are easy to make and fresh to eat.  
In USA majority of Avocado's are being imported from Mexico. One of the very popular brand avocadosfrommexico are the biggest importers. 
Signup for a free news letter's And the Best Recipes to cook.
How to store Avocado's?
How to eat Avocado's?
How to ripen Avocado's?

How to tell if an Avocado is ripe enough?
How to slow down ripening?
How to  save half Avocado?